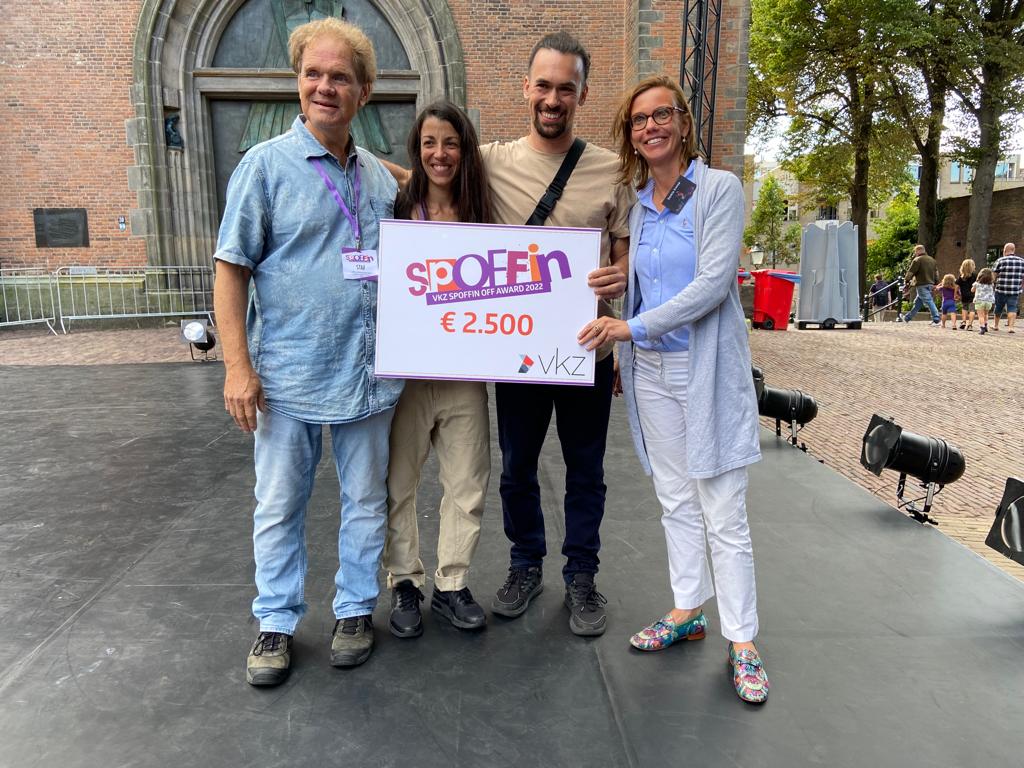 From left to right: Alfred Konijnenbelt (artistic director Spoffin), Roser Tutusaus and Tom Weksler (Wonderground) and Saskia Knoop (director VKZ).
The Spanish/Israeli company Wonderground won the VKZ Spoffin OFF Award 2022 during the Sunday of the twelfth edition of Spoffin. The act received the award and a cash prize of 2,500 for the creation of a new performance from festival director and artistic director Alfred Konijnenbelt.
The third place went to PuntMoc, the second to the Hungarian company Firebirds. Wonderground won the VKZ Spoffin Off Award for their act RISE, which was to be seen on several days during the festival weekend.

The VKZ Spoffin OFF Award was created to stimulate upcoming talent. The prize is intended for the most appreciated act from the Spoffin OFF program during the festival. The voting was done by the public. More than 30 percent of the votes went to Wonderground. A total of 250 visitors cast their votes.

The award is due to our sponsor VKZ BV. VKZ wants to further develop talent development in the world of street theatre. The 2,500 won is a contribution towards developing a new show for the winner. Wonderground will have the opportunity to do a residency in Amersfoort for a week, which will take place a week before the next edition of Spoffin.

During the award ceremony, the members of Wonderground thanked Spoffin's audience for voting. They also expressed their gratitude to Amersfoort and the Netherlands. We look forward to coming back to Spoffin next year!
August 28, 2022