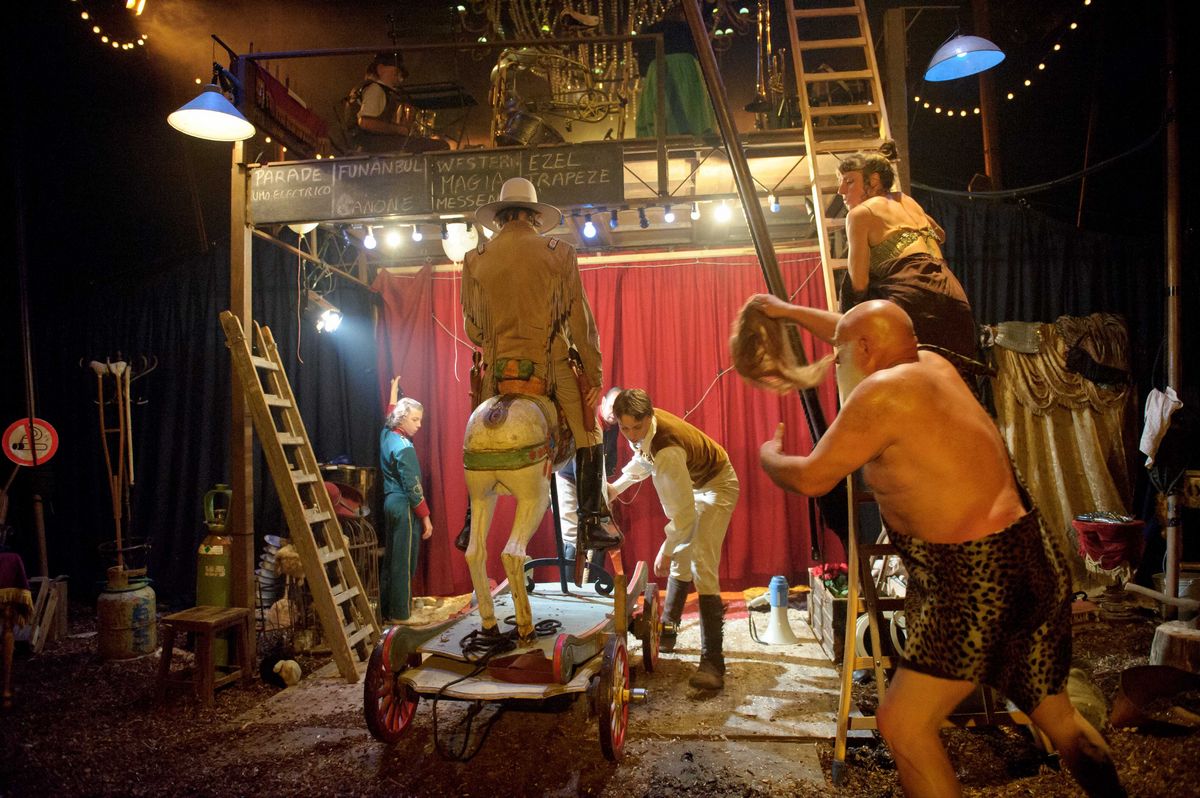 Circus, not always the most safe workroom. (Circus Ronaldo, Spoffin 2011, everything ended well) Foto: Henry Krul
Injured as an artist? No performance will probably mean: no income. The majority of European artists doesn't have an accurate income insurance. If something happens during a festival, what are their rights? Contracts are usually merciless. For the artist. Spoffin did some research and organizes a debate.

"If an artist has to cancel his or her show because of an injury, a festival usually only worries about the loss for the organization and the consequences for the program," Casper de Vries organizer of Spoffin PRO, says. Spoffin PRO is part of international street arts festival Spoffin, this year from 24 to 27 August in Amersfoort (NL). During this eighth edition, the festival hosts about 50 professionals from festivals throughout Europe.

Constant Meijers, former editor-in-chief of TheaterMaker/Theaterkrant and active in de Dutch Raad voor Cultuur (Cultural Council), is leading the debate 'Insurances in street arts in Europe, the risks of the business and how to prevent and avoid them?' De Vries: 'Organizers, programmers and artists will talk about their experiences and exchange best practices. We can learn from each other and think about the future. Isn't it possible for festivals to make a joint fund to pay artists who suddenly can't perform? We are now talking with 30 to 40 European festivals. Together we must be strong enough to come with solutions on an European level.'

Many people who work as a freelancer don't have an income insurance and artists are an especially vulnerable group. De Vries: 'In countries like France and England, the position of artists is a little less shaky than in the Netherlands. Under conditions, their governments are willing to provide a helping hand.'

Meanwhile, the facts are though. A quarter of the surveyed artists doesn't have health insurance and 75 percent doesn't have professional health insurance. 25 percent of the festivals do not have liability insurance for their employees and volunteers. One third of the artists doesn't have personal liability insurance and 80% has no professional liability insurance.


Spoffin PRO: Saturday 26 August, 11.00-12.30 debate; Sunday August 27th, 11.00-12.30 Pitch of Plans: A lively and fast series of new plans and ideas for future performances in Europe's streets. Artists are given the opportunity to present plans for new work to an audience of festival organizers from all over Europe.
August 20, 2017