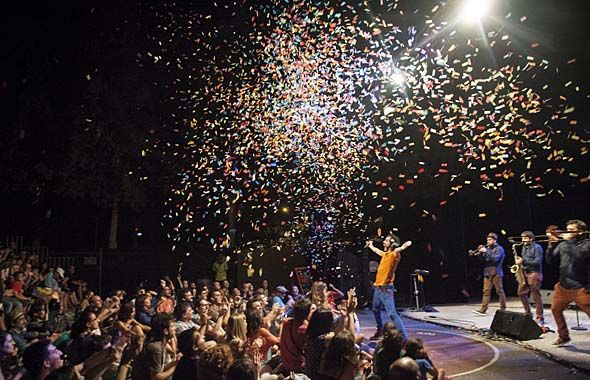 Guillem Albà: expert madness, live music, so a party it will be Foto: SilviaPoch.com
Marabunta is this years opening show of street arts festival Spoffin in Amersfoort (NL). Guilem Guillem Albà and his All In Orchestra promise a great party with splendid music and visual humor. Rui Paixão, Portugal's best contemporary clown will also shake things up, with his theatre project Cão à Chuva. Marte Boneschansker on the other hand will be quietly waiting for her audience, high in a medieval tower, like a hermit, for an intimate one-on-one encounter.

Professional theater makers from 17 mostly European countries visit Spoffin from 25 to 28 August to perform their latest productions. On the program of this seventh edition Spoffin presents a lot of cheerful acts and many promising new dance productions. There are 18 Dutch premieres, including the internationally acclaimed show Antiwords by Spitfire Company an a former convent. Antiwords is based on a one-act play by Václav Havel. The Czech group transformed it into an act in which two women with oversized masks and their Tsjech beer are key.

Wondering what happens when a former gymnastics champion and a kick boxer form a dance duo? Héctor Plaza and Agnes Sales [CAT / ES] show it in Ehiza. Other Dutch premieres will be Stalker Teatro, an Italian group that connects fine arts with street theatre and Joli Vyann (GB), a company that owes its international reputation to shows in which performers depict contemporary issues in a swirl of dance, circus and theater.

Residence, workshops and schoolteasers strong>
Cie. Woest (NL / BE), an innovative dance company and dance company HURyCAN (FR / AR) are working on their newest productions prior to the festival, during Spoffin LAB. Thanks to funding by VSBfonds Spoffin is able to expand the fringe programming this year: artists will provide a number of workshops and a masterclass and Spoffin programs several performances at different high schools, to get students acquainted with contemporary street theater.

Program for companies strong>
Spoffin on Location is one of the components of the new program for companies. This year Spoffin will program a performance in the grounds of a mental institution, in cooperation local companies and Matchpoint, a foundation for volunteers. 'Spoffin is a wonderful festival with a lot of surprising acts. With Spoffin on Location people who are unable to come to the festival independently can also enjoy one of the shows,' Adith van Vuuren of Matchpoint says.

Spoffin for professionals strong>
In addition to all the artists coming to the festival, also a steady number of professionals in the field visit Spoffin every year again. To see the latest outdoor theatre shows, to network and debate and for pitches from artists who are working on new ideas.

August 17, 2016