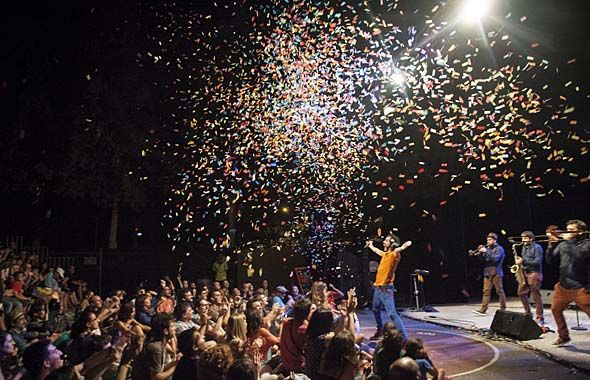 Guillem Albà: expect madness, live music, so a party it will be.
A show high in an medieval church bell tower. Brilliant dance performances. Two women and a crate of Czech beer in a former convent and shows anticipating on hot topics. Spoffin 2016 shows what's new and interesting in European outdoor theatre. The program mainly consists of medium and smaller productions and almost half of the performances are Dutch premieres.

International street arts festival Spoffin takes place from August 25 to August 28 in Amersfoort (NL). The focus of this seventh edition in the medieval city centre is on dance, artistic director Alfred Konijnenbelt says. 'We have some brilliant dance performances, such as Joli Vyann (GB), Lucio Baglivo (ES), Héctor Plaza & Agnes Sales (ES), BOD.Y (SK), HURyCAN (FR/AR) en Cie. Woest (NL/BE).' The last two groups will work as artists in residence in Amersfoort. Konijnenbelt was already impressed by a try-out of HURyCAN. 'A production that is going to attract a lot of international attention for sure. Cie. Woest, one of our most innovative dance companies that focuses on outdoor theater, will present a work-in-progress during the festival.'

Premieres and workshops
What's different from previous editions? 'First of all, Spoffin is back to full strength. After a somewhat smaller edition in 2015, this year we have more than 150 performances; 35 productions - including 18 Dutch premieres - representing 15 mostly European countries. Thanks to funding we can expand the fringe program: there will be three workshops for the public: acrobatic dance, circus and music - as well as a master class slapstick. We are also able to increase the number of our so called school yard teasers: artists performing at high schools to interest students for our festival.'

Which shows is Konijnebelt looking forward to himself? 'Difficult question, there are so many beautiful en interesting artists coming! Perhaps the performance of Marte Boneschansker: one visitor at a time, ten meters high in our medieval church bell tower. It is a very intimate, personal experience. The latest production of De Jongens (NL), de Passiefisten, is also very special. It's about terrorism, but full of slapstick and rapid entanglements. Highly recommended. Troubamour also anticipates on a hot topic: the confusion that has arisen since the arrival of more and more refugees in the Netherlands. TamTam makes a wonderful show with found objects: last year a big hit and sold out continuously on Oerol, another Dutch festival. Anyone who has missed it now gets another chance in Amersfoort.'

New location: convent Mariënhof
Konijnenbelt proudly presents Antiwords by Spitfire Company (CZ). 'A very special show, hilarious and fascinating touching different subjects at the same time. At first glance, it is about the emptiness in conversations of men drinking beer. Meaningless bullshit of bored people who have nothing in common. But in the meantime, it is also an interrogation by the secret service. Spitfire Company presents this performance in a beautiful space: an former convent called Mariënhof.'

Fire and a colorful parade
Muzikanty, great street theater from Poland, also bring a show which has something to do with beer and Guillem Albà, a great musical show from Spain, guarantees a big party on the biggest square of Amersfoort. Cão à Chuva from Portugal will bring fun for kids and families, Konijnenbelt says. 'A master clown, performing with Cirque du Soleil. Another real street performer is Goma, who effortlessly can handle a large audience. Remarkable is Cycloplume Company (France): they make a great parade through the city and everyone who wants gets body painted on the way. They also present a great fire show: Impulso. Last but not least: Hilbert Geerling, triple Dutch champion Magic, tells stories whilst he pulls a lot of amazing tricks.'

Information on all the other performances can be found on the website. Most shows are freely accessible: you decide afterwards what you want to pay. For some performances, it is necessary to buy a ticket; sales through the website has started.

July 1, 2016
Programme Spoffin 2016
Buy tickets