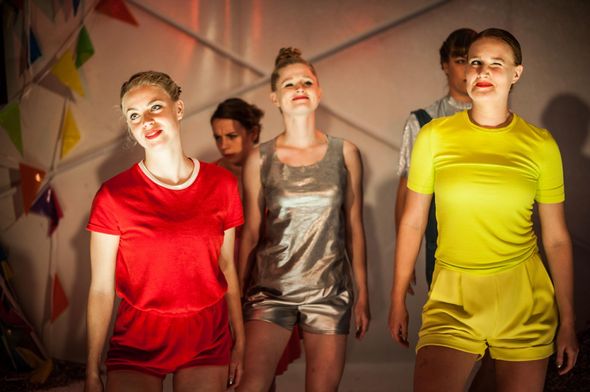 Spoffin OFF 2017: MAN || CO. Photo: Bart Grietens.
Spoffin OFF 2017: monumentalise
Spoffin OFF is the showcase part of the Spoffin Festival in Amersfoort (the Netherlands), an annual street arts festival with more than 30 performing acts from all over Europe.
Application for Spoffin OFF 2019 will open on 1 January 2019
Spoffin 2018
In 2018 Spoffin takes place from Friday evening, August 24th through Sunday afternoon, August 26th. On Thursday evening, August 23 there is the opening event Spoffin Amuses, where 10-15 artists present a short excerpt of their performance.

Programme sections
Spoffin Festival consists of five programme sections:


Spoffin IN: innovative outdoor and site-specific performances of professional artists (on invitation only)


Spoffin OFF: showcase of new work and up-coming professional artists (selected after application)


Spoffin PRO: international meeting of promoters, festival programmers, agencies, journalists and other professionals in the field of arts in public space (on invitation only)


Spoffin LAB: a residency project supporting young theatre artists who are in the process of finishing a new project created for public space (streets, squares, parks, etc.). Selection after applicaton.


Spoffin Amuses: opening event of the festival, where 10-15 artists present a short excerpt of their performance.


Both the Spoffin IN and OFF performances are programmed on squares, streets, parks and some specific sites in the mediaeval city centre of Amersfoort. The festival facilitates interaction and possibility for meetings amongst performers and professionals both informal and organised.
Spoffin OFF artists have been booked during or after the festival by numerous festivals throughout Europe.
Application deadline and selection criteria
You can apply to participate in the Spoffin OFF programme 2018 from January until February 28. A committee consisting of four festival programmers under supervision of artistic director Alfred Konijnenbelt will thoroughly study all the applications and make the selection. Final decisions will be made in March or April 2018 and are formalized in a contract.

Spoffin will do its outmost to organise an exceptionally good OFF programme, as a consequence the quality level of the selection is high. Please note that only a limited number (15-20) of artists/groups can participate in the Spoffin OFF program, due to limitations in space, time, production capacity and budget. The first selection will be mainly based upon artistical criteria: originality, expressiveness, professionalism and whether the work interacts with public space and the audience. Furthermore we have a strong preference for productions that are plug-and-play (self-supporting), can easily travel and use little or no text. Practical criteria like group size and travel costs can further influence the final selection.

Spoffin OFFers:
Outdoors performance venue (meeting your technical needs)


High profile publicity in print, online and elsewhere


Quality meetings with theatre professionals (Spoffin PRO) and other artists.


Good hotel accommodation


Delicious meals


Nice ambience


Reasonable compensation for travel costs


All the money raised 'on the hat' belongs to the artist!
You OFFer Spoffin:
Your time and effort to showcase an exceptional good performance at Spoffin!


Everything you need to perform (including all light and sound equipment, rigging, etc.), apart from the venue and the power
Application for Spoffin OFF 2019 will open on 1 January 2019